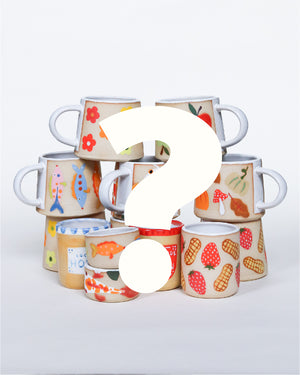 Mystery Misfits
Sale price Price $55.00 Regular price Unit price / per
This is a Misfit! What does that mean? It has some imperfections but is still totally functional so we simply sell it at a discount. Many makers throw away items like this but Tiny Arms believes in sustainability and that art should be accessible to more people. These items may have thin glaze, surface cracks, wonky shapes, or uneven surfaces.
It's a mystery and mysteries are fun. If there is a pattern you would like leave a note at check out. REMINDER!!! I may not be able to accommodate your request. This is based on availability. Items can not be returned.
 If you love a surprise, perfectly imperfect work, and a good deal, this is the item for you! If you want to know exactly what you're getting, this may not be the best fit. 
Items are approximately 30% off original retail price depending on level of imperfection. 
Care: 
All ceramics are dishwasher and microwave safe! Exterior pattern can fade if piece is aggressively scrubbed with scoring pad. 
By purchasing Tiny Arms Ceramics products you are acknowledging that:
• Tiny Arms there is an understanding that each piece is unique with handmade qualities. With that comes tiny wobbles and imperfections that make each piece perfect. While each piece will have a similar form and clay, you may see differences in applications of glaze and slight variations in size. 
• All wares are made with attention to detail including remnants of the hand at work and intentional "imperfections".
• All items are food safe.
• All items are dishwasher and microwave friendly, unless otherwise noted.
 • Function is tested and unless otherwise noted (misfits), this piece will function completely as it is advertised.
• Tiny Arms Ceramics is a one woman business, please keep in mind that returns cannot be made for any reason beyond receiving the wrong product.
Please remember to be kind when purchasing handmade. These items are loved from the moment they are made to the second they're sent out to you. You are bringing a piece of Tiny Arms Ceramics and myself into your home.